19 September 2019
Morocco Beaches: From Lagoons And Wildlife, Through To Safety, Experts Give Their Best Advice
Our Morocco travel experts reveal their favourites
Only three and a half hours' flight away and with day time temperatures up in the mid 20s most of the winter, and still hitting the 30s all through the autumn, Morocco is our go-to place for a blast of sun, sea and surf just as it starts getting wet and miserable back home.
But when it comes to beaches in Morocco, you need to choose wisely- there are so many different factors to consider. Are the waves too rough and wild to swim, or too tame to surf? Is it safe for women to sunbathe alone on them without getting hassled? Are the beaches easy or tricky to get to? Is there somewhere really cool to stay nearby? The places we have listed we think tick all the right boxes. We love small, individual, boutique hotels - each with something special about them: food, design, location ... and ideally within sight and sound of the waves. We also like our beaches wild and natural, with as few people on them as possible, unless they are surfers, that is : nothing beats watching a true surfing pro twisting and turning and tunnelling through the pounding breakers.
But don't just take our word for it. We've rounded up a panel of Moroccan travel experts from shoot producers, to Moroccan designers, to adventure travel specialists - to give you the insider lowdown on their favourite, off-the-beaten track places along the coast, as well as the very best places to stay and how to get there.
Number 1
BEACH: Oualidia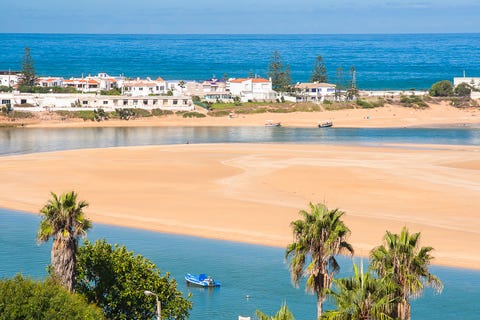 WHO?

Max Lawrence, former shoot producer and Marketing Director of Hotel Les Deux Tours, Marrakech
WHAT'S IT LIKE?
Set between Casablanca and Essaouira, Oualidia has an 11 km long lagoon with a tide that means the sand bars change throughout the day. It's incredibly beautiful, full of wonderful wildlife including migratory birds such as pink flamingoes. The oysters are amazing and there is a great surf school there to get you out in the water.
HOW TO GET THERE
It's around three hours drive north west of Marrakech (via Safi).
SWIM OR SURF ?
It's safe for swimming inside and outside of the lagoon and a perfect place to learn to surf, as the waves (and the currents) are not strong here.
SAFE FOR WOMEN?
Yes.
Link to full article: https://www.elle.com/uk/life-and-culture/travel/g28981416/morocco-beaches/
LA SULTANA HOTELS - True gems
Discover a gem in the city in Marrakech or a gem by the ocean in Oualidia
TEL. +212 5 24 38 80 08 -
reservation@lasultanahotels.com
www.lasultanahotels.com